CHICHI NO HI

(father's Day)
My father passed away some years ago. Miyatani otosan, Lady Zen's father passed away just this year, while we were visiting in Japan. Today we remembered them both as we are both fatherless now.


T
he symbol in the frame is the Family crest, for lady Zen's family. I use it now on some things, like s/v Zen logo and certain other things. Since we do not have children, and he ( her dad) does not have any male children and only one brother with no kids. I will be last to use this seal. So I do it in his honor. When we go to Japan I will use there as well to extend his memory in some small way, his name will not die out just yet.
I made this tray last year. I used it this morning to burn incense for both our fathers. A little memorial.
Miyatani Otosan was very traditional I was told about Japanese cerimonies. This was his favorite kimono. He would wear it a couple of times a year for certain things. I was told it is an antique. Worth a couple of thousand yin. Outside it is not that impressive looking. Nice workmanship, big pocket sleeves. Other wise plain. Inside it is quite impressive. Silk painting, carp, water, mountain. wow. This was going to be burned in the funeral. Instead it was given to me.
Having cleaned my garden yesterday.


It was nice to sit out there this morning.
before the day got to far along and have a quite moment.
I remembered sitting in Japan playing my flute in Otosan's Japanese room overlooking the garden. My dad, always liked our little yard we had also. He use to grow roses.
I decided to play a song on my
Shaminsen for both of them, my dad like the guitar, this is the Japanese version,
wearing Miyatani Otosan no Kimono. For the first time
Then off to the marina...


I spent a couple of hours re-doing the locking system on the doors. Not only to make it neater/cleaner but more burglar resistant. Nothing can stop them, this will make it more difficult so maybe they will go somewhere else. It also gives me more peace of mind for overnight sleeping in the less secure places of the world.
Then on to more sanding and TeaQueing, final finished the inside cockpit area. a few touch ups but for the most part done there.. with that part....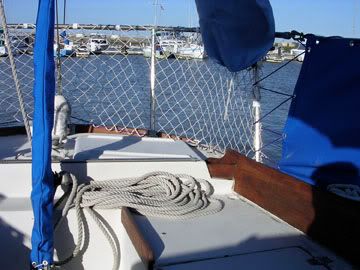 Then I figured to head out for a short sail... The wind was really unpleasant.
Just before I was ready to begin to head out and just after I finished the bright work. The wind picked up...seriously. Flags were standing vertical parallel to the ground no slack at all. The trees were bending. I thought hmmmmm, maybe I do not want to deal with this. I'll let the woood dry more and think about it. Then 20 min or so, it stopped, it was so calm I was thinking, hmmm there is little point in going out in this, there is no wind now at all bummer. Then a light breeze, I went for it.
After getting out there, the wind followed the same pattern, very nice, then way too much, then not enough. I accepted what was given, and went with the flow, practiced reefing under way, heading up, bearing off, expecting no more than the moment and staying with the "Tao".
It was short but pleasant.
After a bit I headed back as it
was already late when I started
I wanted to be back before dark. The stereo speakers worked great!
Having heard today that our quiet little park marina is joining the commercial mecca of the 21st century.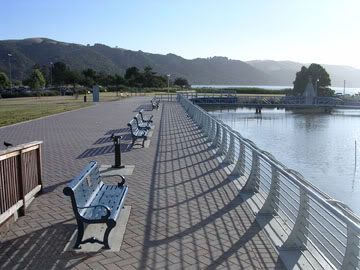 With next year to bring, cement docks, water front offices, bed & bath, a restaurant, and the like, also almost doubling in size. I figured I would grab some shots of history now in the present...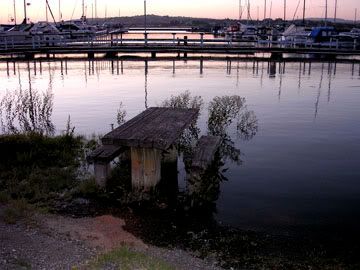 So ends Chichi No Hi '06
Coming up next weekend, Lunch in Benica, the Waterpath.